*Sponsored post – Supporo's fashion line takes the boring out of compression socks and are just as effective when it comes to comfort. Compression socks have numerous health benefits and can be worn by both men and women in any profession but are especially perfect for nurses and athletes. They can help relieve the symptoms of those who experience leg issues such as fatigue, swollen ankles and varicose veins. Basically, these type of socks improve blood flow and prevent blood clots making for easy circulation. They can reduce the pain and swelling in the leg that arise due to pregnancy, sports or standing for long hours.
Supporo is a Canadian company that considers itself to be the compression socks expert. They have been making compression socks since 1980 to help people take back their health in a cozy and stylish way. The brand has worked with various medical professionals over the years to develop their products and to build its industry know-how. And now, Supporo has become the brand of compression socks most prescribed by physicians and most recommended by pharmacists.
Each pair of compression socks is made using a special weaving technique with high-quality lycra that's comfortable and breathable. This means it may be summer but the socks are made out of an ultra-light fibre that "breathes" so that your feet will not get sweaty, sticky or smelly. I was gifted the new collection of fashion socks including the pink polka-dot compression socks for women and the unisex, thermal lumberjack-style ones (made out of 40 per cent merino wool). To review these socks, I styled them for a casual, yet trendy look – wearing them to lounge around at home and then later to take a walk. I want to share my observations with you.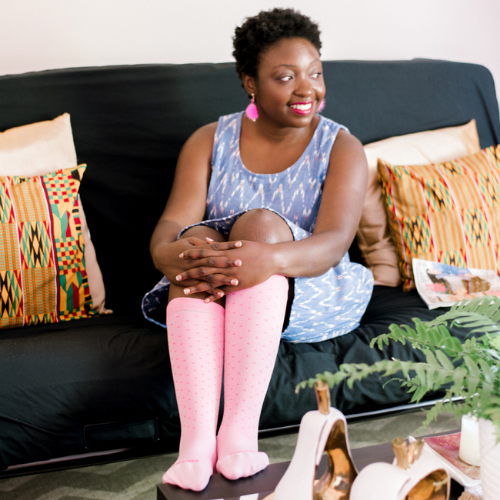 I definitely found the Supporo compression socks useful because I love to take long walks outside and just like wearing the right walking shoes are important, I knew the right pair of socks would help me prevent foot cramps. Plus, these stylish ones can be worn all day without compromising on looks. If you have to wear socks, you can choose ones that provide a therapeutic support, health benefits and enhanced movement. I call them my therapy socks! Prior, I had never really heard about compression socks but I am glad to now know exactly what they are and how they can help my legs be their best when I am staying active or just lounging around at home.
The compression socks fit very snug and pressed gently against my skin as I rolled them up all the way knee-high, being careful to smooth out any bunching up around the edges. No need to fold the tops. It was a cozy feeling. They also felt like I was wearing a size smaller but that's how compressions socks are supposed to feel. They apply pressure to the lower legs and can provide relief as a form of therapy where you need it the most. In case you are curious about the science behind compression socks, these ones are made up of 90 per cent nylon, 10 per cent elastane to provide a medium level compression. Supporo socks' ideal compression is 15 to 20 mmHg which helps promote blood flow while providing relief to tired legs.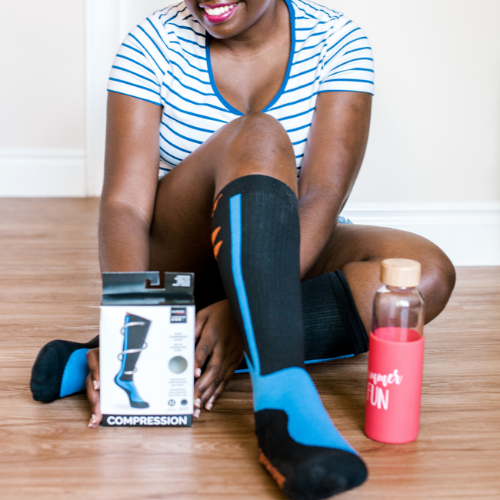 If you are an athlete, the good news is that Supporo also has a collection of socks for you to help bolster endurance, improve performance and enhance post-workout recovery. Wearing socks during exercise or any type of physical activity can help increase blood flow. This improved circulation provides muscles with the oxygen and nutrients they need to prevent soreness and muscle cramps. The sports line of socks can help reduce the risk of shin splits, which happens when there is inflammation of the muscles, tendons, and bones tissue around the tibia resulting in pain. I can imagine the sports style being great to wear out for a game of soccer or for working out away in the gym. Whichever one you choose, these socks can help you stay stylish while you get active.
Supporo Sports socks typically provide mid to high level graduated compression and also come in a calf sleeve. I wore the unisex style made out of 72 per cent nylon and 28 per cent elastane. All these collections are available in small (6-7), medium (7.5-10), and large (10.5-12). They retail on the Supporo website at prices ranging from $24.99 to $32.99.
Connect with Supporo Socks online:
Website | Instagram | Facebook
Which of these styles of socks are your favourite?