*Product review – From the world to your doorstep. This is the motto of Caravan and Company, a Canadian retail business that sells goods made by female artisans from all over the world who are paid a fair wage for their craft. It all started in September 2019 with the mission to curate a selection of high quality goods that are whimsical, personal and have a connection to the wearer. The goal is to work with partners that support local, empower women and by doing so help to uplift their communities. All products have a special element to them, are picked to reflect unique artisanship and their women's flip flop bangles from Mali, Africa are particularly a bestseller.
As detailed in the description on the online story, the flip flop bangles are made with 100% recycled flip flop slippers and have the most interesting back story. Each one is unique and has a different variations of colour and pattern. To create the bangles, neighbourhood women in Mali, Africa collect rubber flip flops from door to door. They then recycle them by melting it down and twisting into colourful bangles. Also in the mix are telephone wire bangles, also from Africa which are made from re-purposed telephone wire. I was gifted both and I absolutely love them. I think they help me foster a delicate and precious connection to the women who have meticulously handmade them with deep care and intention.
The parcel arrived promptly and I was very impressed with Caravan and Company's packaging. The flip flop bangles came in a cute box branded with the logo and were sealed nicely for safety. I felt like each bangle was completely unique. The rubber felt durable and soft to the touch. You can wear them all day for most activities without having to take them off to workout or swim. They are light as a feather, enough to go unnoticed on your wrist for a while. I usually stack both types of bangles on my arm along with a watch for some visual appeal.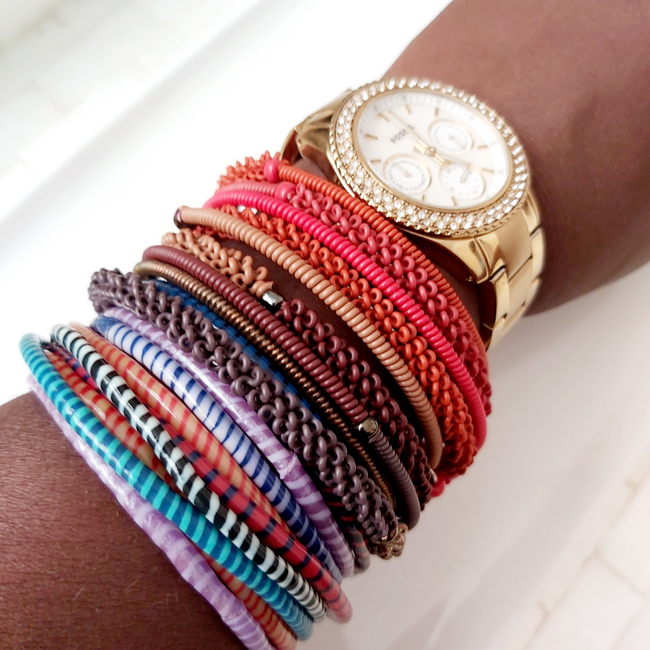 It is a plus that the flip flop bangles are washable. I wore them once for an entire night and slept off with them on, then went as far as showering with them the next day. At first, I was a bit worried that the circles were too narrow for my wrist but with a little soap, they were able to roll on and off. However, please note that the same cannot necessarily be said for the telephone wire bangles, which are a bit heavier. In the picture above, the telephone wire bangles are stacked on my arm closer to the watch. Coming in a brown and red colour which is very reminiscent of the Fall season, they reflect the use of modern media in African art today. They currently retail for about $22 at the online store while the flip flop bangles cost $15 for a set of 10.
Erin Keatch, who owns Caravan and Company graduated from George Brown College in Toronto with a diploma in fashion and design after which she worked in the fashion industry as a display stylist, then as a knitwear designer before finally launching her own line as a fashion designer – Las Valentias. She later moved to Canada's east coast where she launched Caravan and Company. "I really wanted to develop a brand that was focused on women with a focus on sustainability and the story of craftspeople that were earning a fair wage for their work." says Keatch.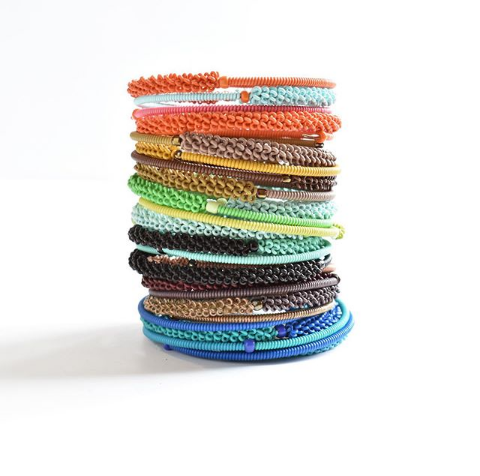 To that end, majority of goods carried by Caravan and Company are made by women in countries like Mexico, Mali, and Colombia. Also curated is jewelry from the Starfish Project – a social cause helping trafficked women in Asia get off the streets and into well paying jobs, such as jewelry-making, graphic design and administrative roles for major offices.
Find all these products and more at their online store. I am completely loving the colourful, vibrant and bold products they carry, some of which may not be from African but are very cultural and reflective of a global style sense. In particular, I would like to highlight the Savannah Wayuu Moon Clutch from Lombia + Co. because its versatility is amazing. The clutch is a nicely knit half moon accessory and comes with an inner lining plus handle. It can be used for a makeup bag, travel pouch, and as the perfect clutch. I would personally carry this clutch to a dressy dinner night out or use to relax at home meet-up in casual style. If you work from home, this could even double as a pencil case!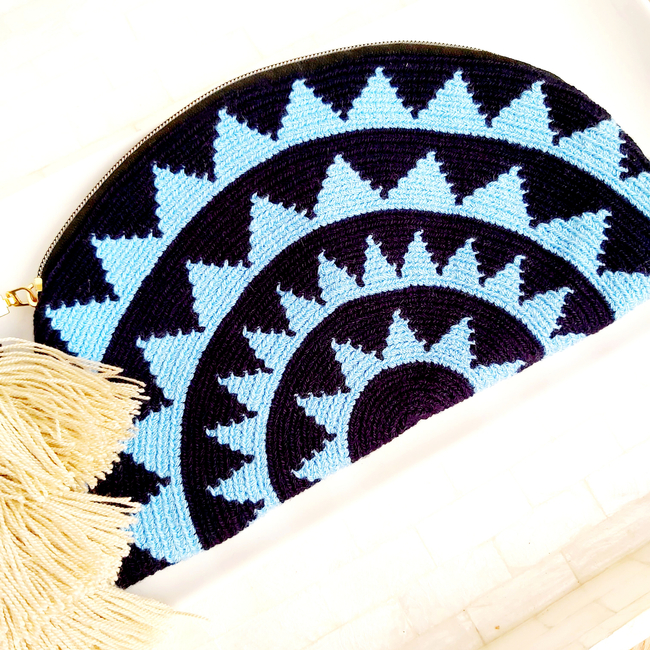 What do you think about the unique story and craftsmanship behind the flip flop bangles?