*Product review – Building a corporate closet has just gotten easier thanks to Ayinke Fashion Inc. Whether your style is office casual, classy or a bit more sophisticated, you will find something to love at Ayinke. The brand recently contacted me to do a review of their clothing and after checking them out online, I immediately fell in love with their mandate and accepted the opportunity. What they have to offer really appealed to me. I am going to go ahead and give you the full scoop on what I honestly thought of the Arike pleated, high collared dress that was sent to me.
Ayinke is a fairly new brand that just launched recently with an aim to deliver corporate clothing at affordable prices. Ayinke is a Yoruba praise name that hails from West African meaning "born to be praised and pampered. In the same fashion, the brand truly believes that dressing in beautiful African print clothing is a chance to receive compliments and be showered with praise.
Quality
Ayinke's print dresses are made out of African print fabrics – 100% cotton. Factor this when buying because these fabrics are non-stretchy in nature so you really want to get your sizing accurate. The fabric may not be top of the line for you since it doesn't stretch but it feels great to the skin, holds up after heavy use and could possibly stay intact even after frequent washings / dry cleanings. Buying an Ayinke dress is probably going to be a no brainer – there is no other more affordable option in the market. You are getting a lot for what other brands would probably charge $90 or more.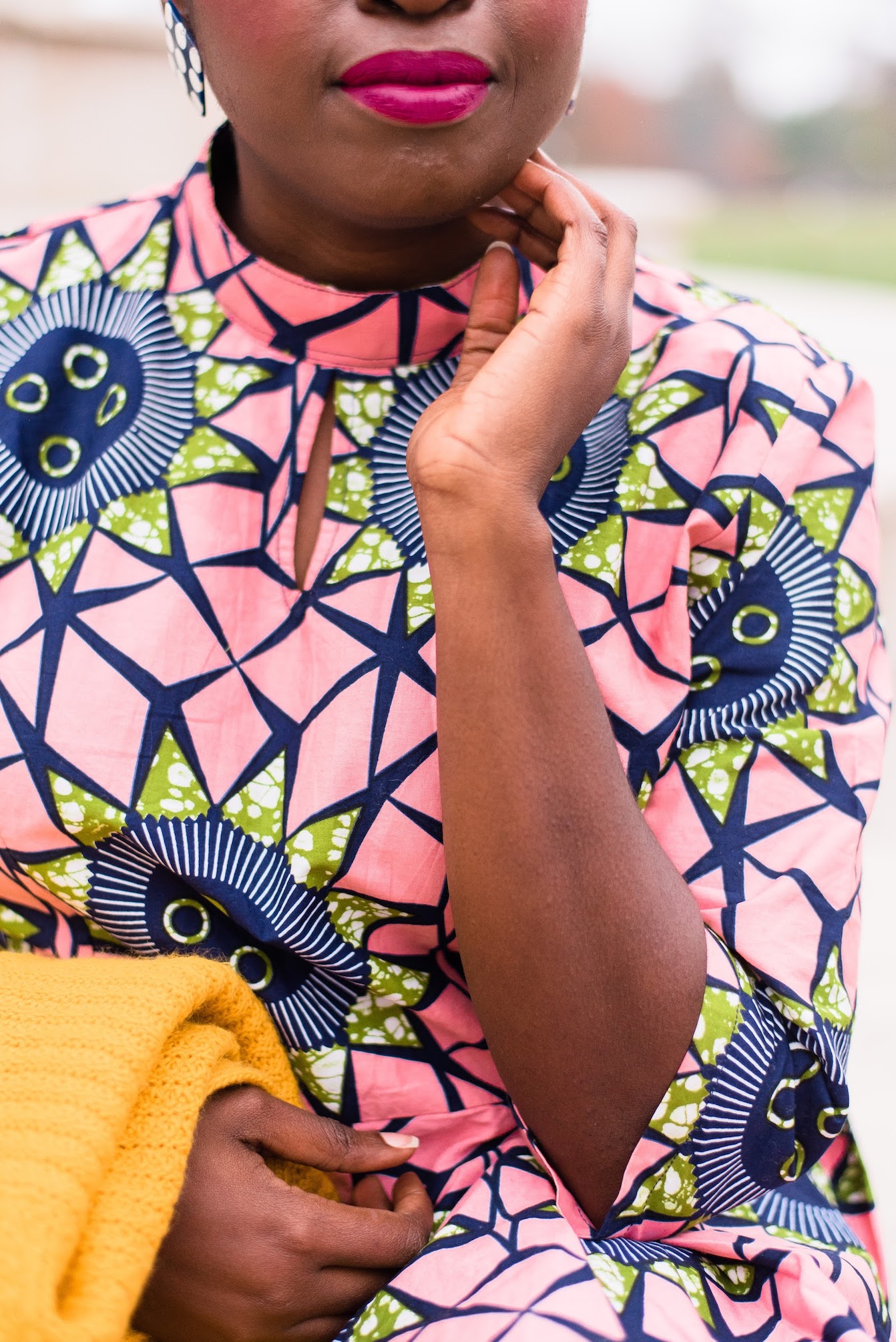 Design
The print African dress is pretty opaque when worn and is not see-through. It does not come with any lining on the inside but perhaps it does not need one. The fabric is light, airy and breathable with a gentle feel to the skin. I found the stitching to be very neat and well done especially around the high collared neckline with the peekaboo keyhole opening and at the hems. The zipper at the back of the dress was also well placed and glided to a perfect close to the neck clasp above. It features elbow-length sleeves although I think it might have been better with capped sleeves.
Fit
Like with most print African dresses, finding the right fit can be a hit or a miss. This Ayinke dress fitted loosely around my frame and I appreciated that sort of elegance. I don't like my clothes super tight. As mentioned earlier, these fabrics used is non-stretch but that does not diminish from great style. I would say that Ayinke covers a range of sizes with their dresses. You can check out their size chart online for each dress located just below the product descriptions. This will help you to be sure that what you ordering truly has the desired fit. When it doubt, simply use a measuring tape to measure your bust, waist and hips then match it to the best or closest size available.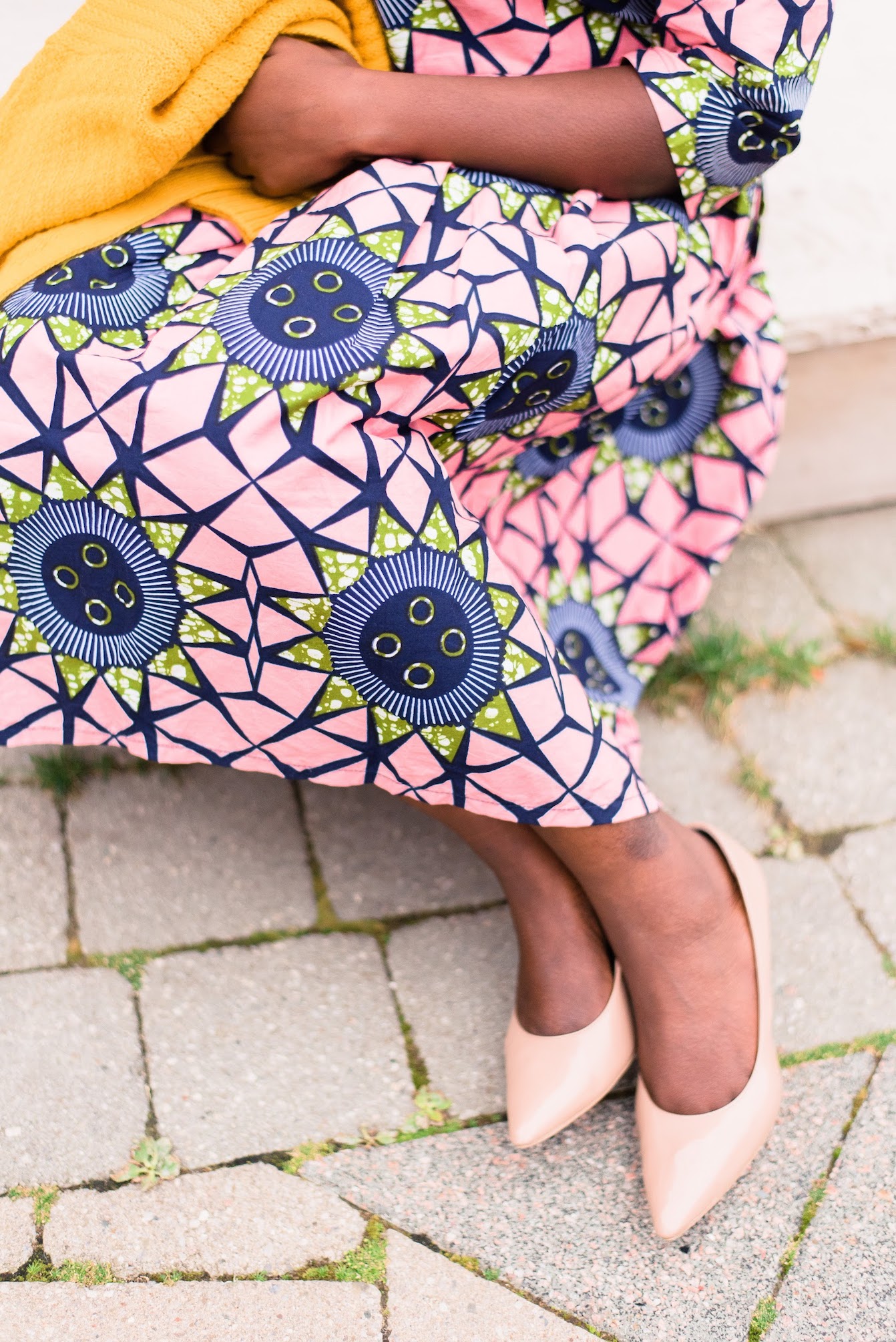 Price
The Arike pleated dress from Ayinke costs about $65 and it comes with free shipping on all orders within Canada. Honestly, that is a good deal and a big bargain compared to most of the other African fashion stores I have seen online whose dresses of the same kind could be priced anywhere from $90 and above. If you are buying the dress from China, that is a different story but an authentic print dress that is "Made in Africa" simply does not usually come this affordable. I love the budget-friendly price point as it helps make this type of fashion accessible to many more people.
Care

Caring for this dress is easy.  Ayinke's website instructions says to simply hand wash using cold water with a mild detergent and hang to dry. Iron inside out.
Connect with Ayinke Fashion Inc. online:
Website | Instagram | Facebook
What do you truly think about this dress review ? Share below!