Kitchens tend to be the centerpiece of the home; it's the room where we entertain guests, prepare meals, complete homework and share stories and companionship. Spending hours in this room is not uncommon. If you're not a trend person [and don't want to follow the wave of popular opinion] it's worth considering what factors make a kitchen truly functional instead. Ideally you want a blend of form and function to ensure you'll love the time you spend in the heart of your home. Leading kitchen cabinetry company, Dezign A Door has compiled some of the most pressing considerations to achieve this design ideal: 
Storage that stacks up
At the outset of your remodel, take an inventory to figure out exactly what you need to store and then make sure your storage meets those needs. Consider extending your kitchen cabinets all the way to the ceiling to give your kitchen a custom-feel, but more importantly, to create additional space and eliminate the formation of a built-in dust-trap. 
Practical pantry
Nothing beats a walk-in pantry if you have the space.
Not only for food storage – well designed open shelving allows you to store cookware
and appliances and generally avoid kitchen clutter. Customise your pantry
according to your needs and consider including plug points for recharging
phones and tablets out of sight.
Awesome islands
Islands are a kitchen must-have but you must have the space to move freely around them. Allow at least 800mm on all four sides of the island. This allows enough space to move around while opening appliances like dishwashers and fridges. If the heart of your home is smaller than 2.4m x 3.6m it's too small to accommodate an island.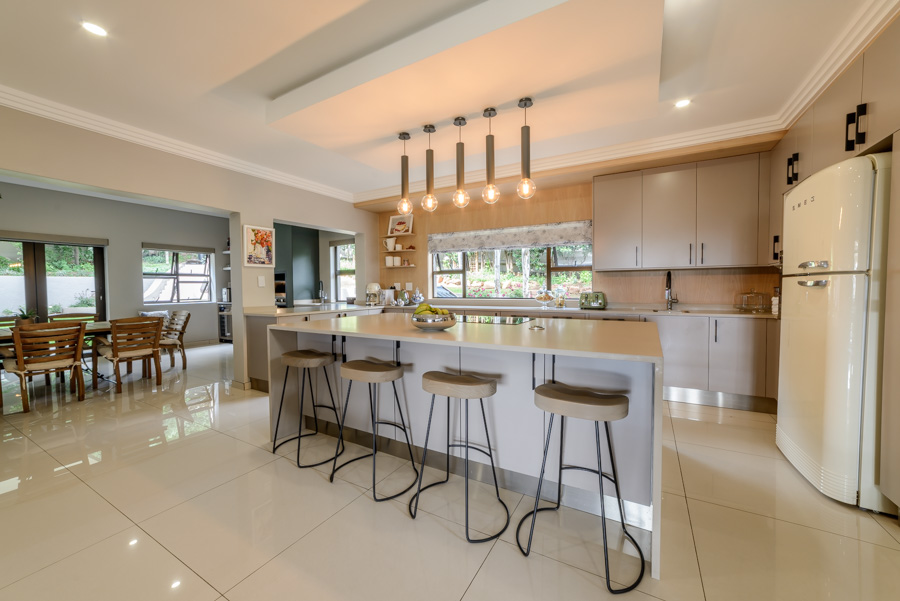 Drawers for days
Never skimp on drawers. They create so much more storage and can be a lot more practical than cabinets. Make sure you allow for deep and narrow drawers and even include them in lower cabinets. A drawer below your oven is a great place to store baking trays.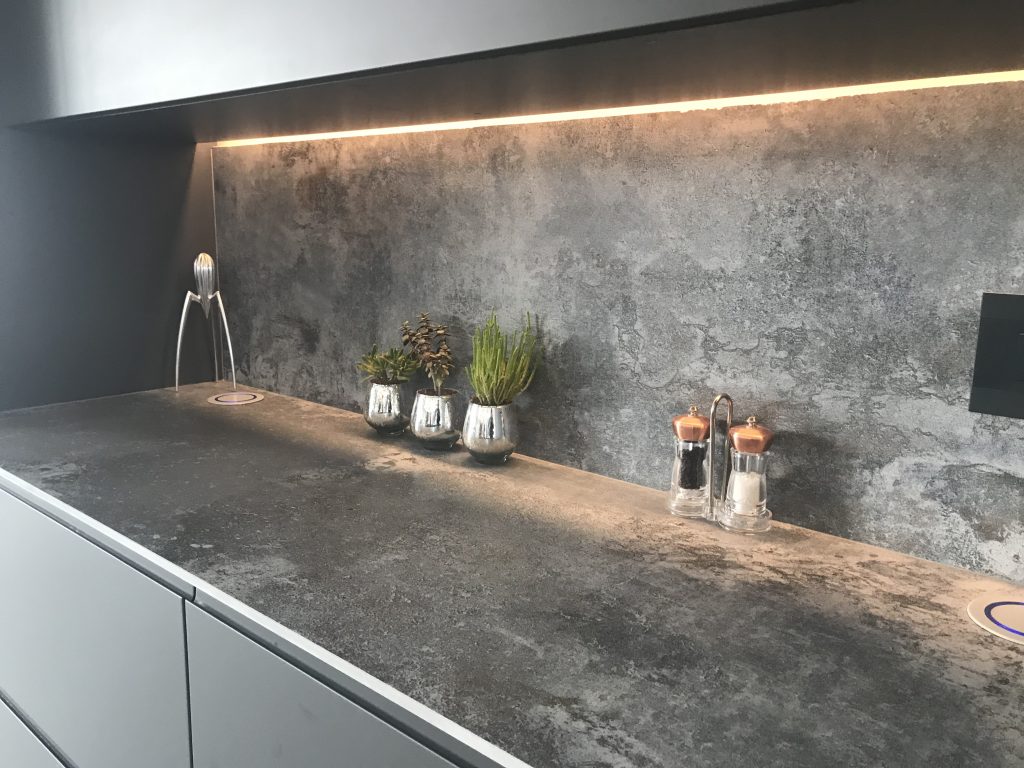 You can never have too many plugs
Make sure you
allow for multiple outlets along your backsplash, on both sides of you island,
in your pantry, and even in some of your top drawers so you can add USB ports
for hidden charging stations for your devices.
Work in a workstation
Space permitting – every functional kitchen needs a dedicated,
small workstation for homework, writing lists, looking up recipes, and taking
calls. It's a priceless addition and one you'll not regret.
Quality fixtures and hardware
Handles make all the difference to your cabinets and drawers, while well-chosen hardware can give a basic sink a high-end look. Invest in quality to ensure that they're strong, durable and nice to the touch. For modern sleek lines opt for no handles at all.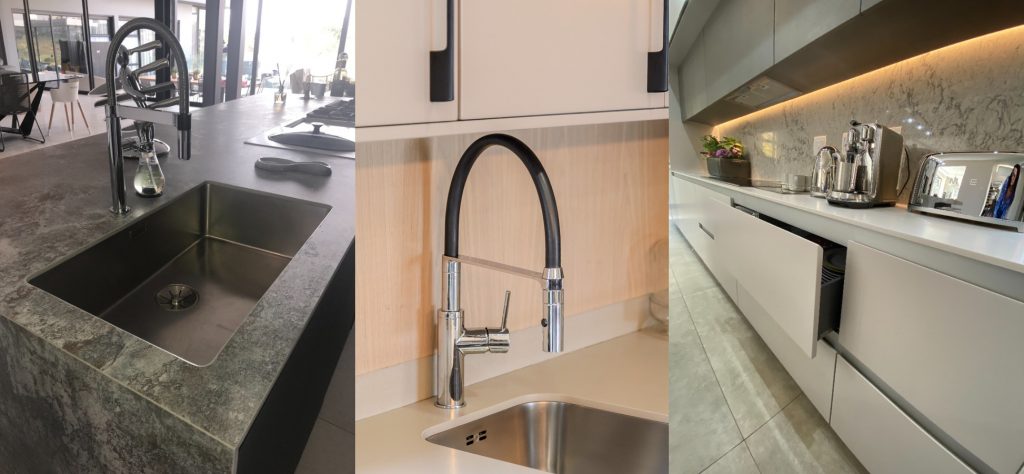 Light up small kitchens with light colours
Dark colour schemes can shrink an already small space so consider neutrals, white and soft shades on kitchen cabinetry to visually expand a small room. When you use lighter shades on cabinetry, countertops, walls, and the ceiling, you create a seamless space without edges or boundaries.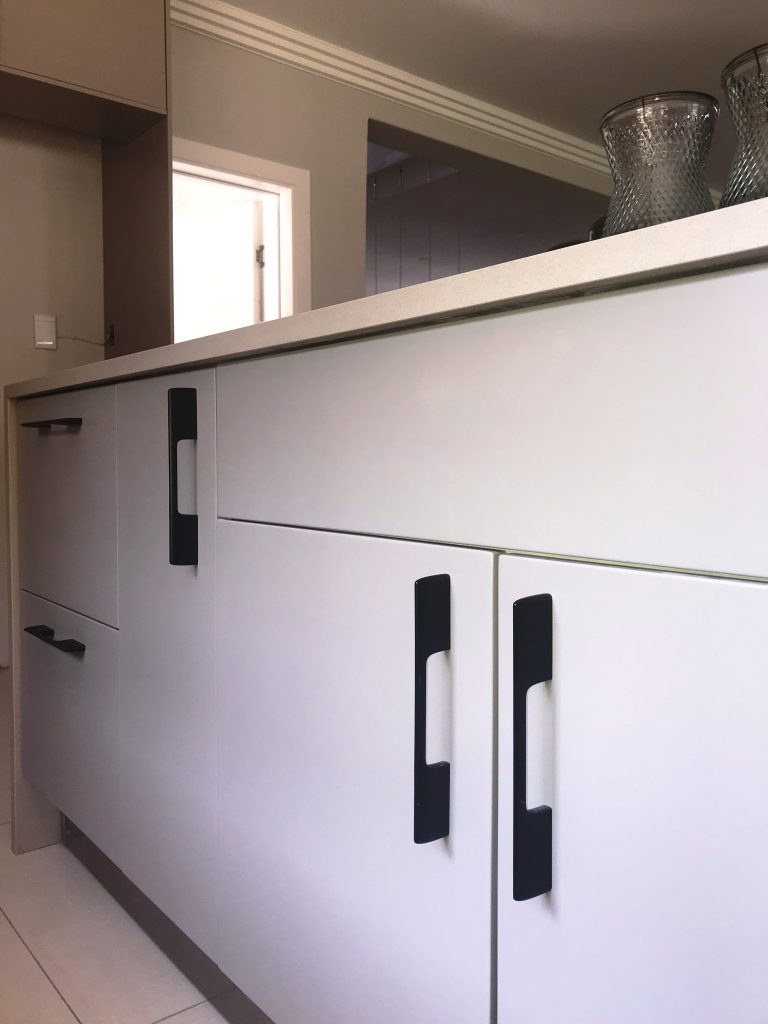 Layered lighting
Good lighting is fundamental to a functional kitchen and different types of light sources will provide the necessary balance. Task, ambient, accent and decorative lighting should work together. Include plenty of dimmable recessed lights and under cabinet lights with accent pendant lights over the island; grouping multiple pendants adds drama.

Before you begin
Kitchens need to work hard and look good so follow
these top 10 tips to guarantee a kitchen that looks beautiful and functions
efficiently.  But before you start any
kitchen project and introducing any design upgrades, there are some basic
considerations worth weighing in on:
Only use a KSA (Kitchen Specialists Association) registered company – this will protect you should things go wrong and you will have recourse and a means to recoup your losses.  Shop around and ask for references while selecting your supplier.
Set a budget limit – don't over capitalise and don't over extend yourself either
Consider how long you are staying in your home
If you have kids make sure you choose a finish and layout that's kid friendly
Consider your lifestyle and what your kitchen deliverables need to be
For further advice on the hottest new kitchen trends – follow Dezign A Door on Facebook – or go to www.dezignadoor.co.za.